International Programs
The home page for the Smeal Office of International Programs describes the main areas of international resources: study abroad, international internships, resources for faculty/staff to teach abroad, resources for international students, and student engagement which offers ways for students to grow global and participate in global communities here at Penn State. Upcoming Events list details (day, time, location) of events relevant to these international areas of interest.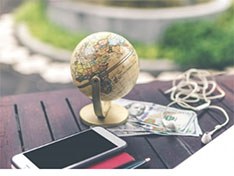 Blog post by Alessandra Auster, Marketing '20, who studied abroad in Seville, Spain in Spring 2019
Smeal strongly encourages students to participate in education abroad and about one fourth of our graduates have this experience. Discover how study abroad will fit with your personal and academic goals. You may choose a summer or semester program and perhaps consider earning an International Business Minor. Start your journey now by navigating the timing and eligibility requirements and exploring the many diverse Penn State programs offered all around the world.
International internship and service learning opportunities allow students to create meaning between their academic coursework, their future careers, and the world around them. Globalization is an increasingly important aspect of any business. Thus, many employers today are reported to value intercultural communication skills, global perspectives, and demonstrated adaptability that often are gained from an international work experience.
Instructors interested in teaching a summer, Maymester or embedded study abroad program or those already scheduled to do so, may find relevant information here.
For students studying here at Penn State from another country, the International Student web page links you to many resources which may help you find answers to your questions about housing, academic concerns, jobs, or ways to meet other students. Explore the resources that can help you best take advantage of all that Penn State life has to offer.
Upcoming Events and Deadlines
Details
Date / Time

FALL 2023

 

Smeal Summer & Maymester Info Session 

Thinking about a summer study abroad experience? Join the Smeal Office of International Programs to learn about types of programs, when to apply, and hear about our CUSTOM faculty-led programs running in Summer 2024. Where will you spend your summer? 

Monday, October 9

5:00 - 6:00 PM

Business Building, Room 125

International Internships Info Session 

Make your resume stand out by pursuing a work experience abroad! Learn about Penn State study abroad programs which provide student internships and the resources to independently research non-Penn State international internships.  

International students may also want to consider U.S. cities offered by some of these internship providers.  

Virtual Event | Registration Link Coming Soon!

Thursday, October 19

Time: TBD

2023 Penn State Global Education Abroad Fair

Penn State faculty and staff, and partners from around the world will be available to meet with students in the Alumni Hall of the Hetzel Union Building (HUB) at University Park Campus to discuss the many outstanding opportunities Penn State offers for global learning and engagement. Students are not required to register for this in-person event. 

CLICK HERE for more information!

Wednesday, October 25

11:00 AM - 4:00 PM

University Park, HUB-Robeson Center, Alumni Hall

Smeal Faculty-Led Study Abroad Fair

Meet with faculty leading Smeal study abroad programs for Summer 2024! Ask them about the business course they plan to teach - they can't wait to travel with you!

Monday, November 6

3:00 - 5:00 PM

Business Building, Room 217

 

Smeal Semester Study Abroad Info Session 

Considering a full semester study abroad experience? Now is a good time to start planning! In this presentation, we will review how to choose a program, what credits you can earn abroad, and upcoming deadlines to be aware of. 

Monday, November 13

5:00 - 6:00 PM

Business Building, Room 125