Diversity Scholars
This page is for current Diversity Scholars to highlight events, announcements, and information.
We Are...
Smeal Diversity Scholars are high-achieving, goal-orientated, undergraduate students whose academic performance has enabled them to further show off the Smeal brand.
Events & Meetings
Each month, there is a monthly scholars meeting held by the Diversity Enhancement Programs Office.  The meetings cover a range of topics including resume creation, academic curriculum, interview preparation, and life after Smeal.  During the Spring Semester we also host a Case Competition for first and second year students, which has corporate sponsors. The Diversity clubs sponsor several events throughout the year and Key Signature Events as well.
Company and Corporate Sponsors
Throughout the year, the scholars work with different corporate sponsors though monthly meetings and organization events.  Past sponsors have included Boeing, Deloitte, EY, Johnson & Johnson, Kohls, KPMG and PWC.
Recognition
 Our recent winners from the 2019 Boeing Diversity Scholars Case Competition are pictured below:
First Place Team:
Orlando Acevedo, Toya Gordon, Thomas Sweeney, Paige Jordan, Talia Aiello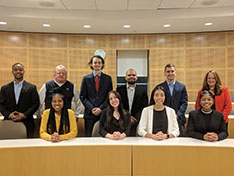 Second Place Team:
Vishal Jagrup, Jessica Trotter, Darius Andrews, Dolores Smith, Morgan Carosi, Tahji Ellison,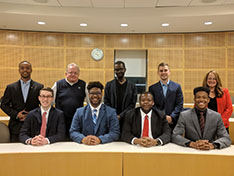 Alan Jorge
Third Place Team:
Marcel Evans, Rodney Burgwin, Darius Simmons, Marcus Thomas, Alex Stuncard, Shamar Stokes