Summer Long
Penn State's summer study abroad programs accepted for the International Business Minor. Focus of programs may include combinations of business, language, culture and more.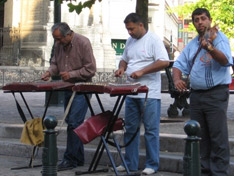 These summer programs provide for a rich learning experience, whether you wish to improve your language skills, gain a better understanding of a particular region, experience the business environment of another country, or all of the above. Most summer study abroad programs charge all students the in-state tuition rate. All the programs listed below are eligible for the International Business Minor. 
MAYMESTER and other Short Term International Study are 1 to 3 week programs. They do not satisfy the study abroad requirement of the International Business Minor, but ask our office whether they could be used in another way...
Search Penn State Global Programs to view all PSU approved summer programs.
Summer application deadline February 1.
 *Penn State Faculty-led Program
**Smeal Faculty-led Program (open to all Penn State students)
 The starting date is when participants should arrive. Departure from the USA may be the previous day.
--Summer 2020--
IB Minor Approved Summer Study Abroad Programs

Smeal Business Programs

Country/City
Program
Dates
Czech Republic
**Brno
**Brno, Czech Republic: CzechMates: Exploring Business in Eastern Europe (includes travel to multiple countries) New Program! ** 6 credits
May 19 - July 3, 2020
Italy
**Florence
Florence, Italy: The World of Business and Italian Culture, Dept BUS (Summer)  6 credits
 
** Track 1 - MKTG 399 Brand Management and the Essence of Italian Brands

May 14 - June 27, 2020
** Track 2 - IB 399 Centuries of Trade: Mediterranean Perspectives on International Business
May 14 - June 27, 2020


Other Programs with Business Courses

Country/City
Program
Dates
Argentina
Buenos Aires
IES: Buenos Aires, Language and Argentine Studies (Summer)

 7 credits

June 29 - Aug 8, 2020
France
Aix-en-Provence
IAU College: Aix-en-Provence, Summer in Aix (Summer) 6-9 credits
June 6 - July 19, 2020
Russia
St. Petersburg
CIEE: St. Petersburg (Summer) : Russian Area Studies track
6-9

 credits (Must attend at least 2 of the 4-week sessions in one summer for the IB Minor)

May 18 – July 13, 2020 OR 
June 15 – Aug 9, 2020

Culture and Language Programs

Country/City
Program
Dates
Cuba
Havana
CIEE: Havana, Summer Cuban Studies (Summer) 6 credits (Must attend both session for the IB Minor)
May 18 – July 13, 2020
Germany
Berlin

IES: Berlin, Language and Culture (Summer) 6-9 credits

June 4 - July 20, 2019

Italy
Reggio Calabria

*Reggio Calabria, Italy: Language and Culture (Summer)
May 12 - June 23, 2020
*Todi

*Todi: Italian Language, Art History, Culture (Summer)

8-9 credits

May 16 - June 27, 2020
Jordan
Amman

CIEE: Amman, Middle East Studies (Summer) (Must attend both sessions in one summer for the IB minor) 6-8 credits

May 18 – July 13, 2020
Amman

CIEE: Amman, Arabic Language (Summer) 7 credits

May 31 - July 24, 2020
Korea, South
Seoul
CIEE: Seoul, Korean Studies (Summer) 6-9 credits
June 22 - August 8, 2020
Mexico
*Puebla
*Puebla, Mexico: Spanish Language and Mexican Culture (Summer)  9 credits
May 15 - June 27, 2020
Spain
Madrid
IES: Madrid (Summer) 6 credits
May 13 to June 27, 2020
Palma de Mallorca
CIEE: Palma de Mallorca. Language + Culture (Summer) (MUST attend both sessions in one summer for the IB Minor) 6 credits
May 18 – July 13, 2020
Seville
CIEE: Seville, Language + Culture (Summer) (MUST attend at least 2 of the 4-week sessions in one summer for the IB Minor) 6-9 credits
May 18 – July 13, 2020 OR 
June 15 – Aug 9, 2020
*Ronda

*Ronda, Spain: Spanish Language and Culture (Summer)

9 credits

May 14 - June 24, 2020 *tentative
Peru
*Lima
*Lima, Peru: Cross-cultural Engagement (Summer) 6 credits

  

May 10 - June 15, 2020

Language Programs

Country/City

Program

Dates

China


Shanghai
CIEE: Shanghai, Accelerated Chinese Language (Summer) 10 credits
June 21 - Aug 15, 2020
France
*Besançon
*Besançon: Intensive French Language and Cultural Immersion (Summer) 7 credits
May 28 - July 31, 2020
Japan
Tokyo
IES: Tokyo (Summer) 6 credits
May 22 - June 27, 2020
Morocco
Rabat

IES: Rabat, Arabic Language (Summer)

7 credits
May 27 - July 11, 2020
Russia

St. Petersburg

CIEE: St. Petersburg (Summer)

 10 credits

Jun 15 – Aug 10, 2020 *tentative

More Choices

Country/City

Program

Dates
Denmark / Sweden
Copenhagen / Stockholm
DIS: Summer in Scandinavia (Summer) 

(MUST attend sessions 1 & 2 or 2 & 3 in one summer for the IB Minor)    6-10 credits

May 25 - July 4, 2020 OR
June 15 - August 2, 2020

Greece
*Athens
*Athens, Greece: Ancient Gods, Modern Culture, and the Psychology of Religious Belief (Summer) 6 credits - PSYCH 100 pre-requisite
May 16 - June 28, 2020
Tanzania
*Mang'ula
*Mang'ula, Tanzania: Parks and People (Summer) 9 credits details
May 19 - June 26, 2020
United Kingdom
Brighton
Brighton: University of Sussex (Summer) (Must attend both sessions in one summer for the IB Minor)  8 credits
June 22 - Aug 17, 2019